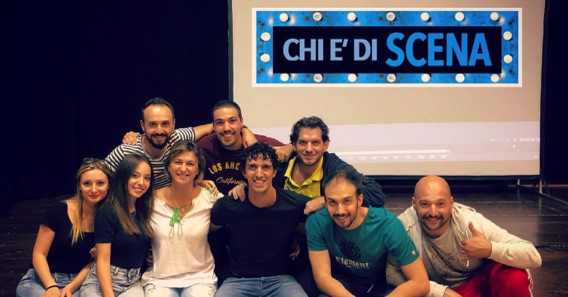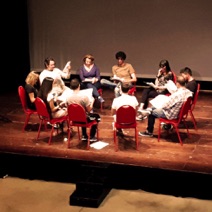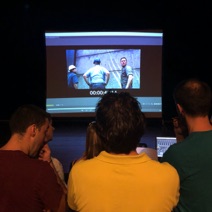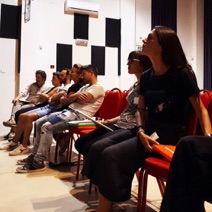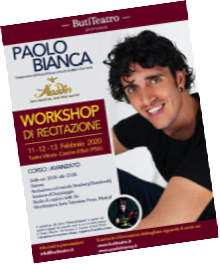 The "Chi è di Scena" Stage created and directed by Paolo Bianca, proposes a course on Acting. Two types of courses are available: Beginners and Advanced.
Each course takes place over three days, three hours a day, with a maximum of 8 members.
Handouts and scripts will be delivered during the internship.
At the end of the course a certificate of participation will be issued.
ACTING WORKSHOP "CHI E' DI SCENA"
FOTO: Chi è di Scena - I Ragazzi del Corso Avanzato di Settembre 2019
The BEGINNERS Course will focus both on the strictly technical aspects, the body and the voice as fundamental tools, and on those related to diction, the scenic space, the interaction between actors, the expression of feelings and the use of the Strasberg Method / Stanislavsky.
During the Stage the theory and practice will be addressed thanks to group and individual exercises of the following themes:
- Body language
- Use of the Voice
- Diction
  - Acting with use of the Stasberg / Stanislavskij Method
The ADVANCED Course will focus on the deepening of the Diction and the use of the Strasberg / Stanislavskij Method. Different types of scripts from modern films, television series, but also prose texts, musicals and dubbing will be addressed.
During the Stage the theory and practice will be dealt with in depth thanks to group and individual exercises of the following themes:
- Diction
- Acting with use of the Stasberg / Stanislavskij Method
  - Documentary and Film dubbing session
MY NEXT WORKSHOP OF ACTING (ITALIAN LANGUAGE)
ADVANCED COURSE : 11-12-13 February 2020
Teatro Vittoria - Cascine di Buti - h 20:00 till 23:00